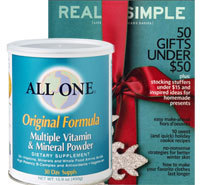 Santa Barbara, CA (PRWEB) November 18, 2009 — The December 2009 holiday issue of REAL SIMPLE Magazine features an informative article on multiple vitamin supplements, in their health section. In the article entitled "Decoding Multivitamins", REAL SIMPLE selected seven (7) multi vitamin products to review. Among the familiar classics such as One-a-Day?® and Centrum?® REAL SIMPLE has also included ALL ONE?® Original Formula from Nutritech?®. ALL ONE is the ONLY powder reviewed in the article.
Says Nutritech owner Doug Ingoldsby: "We are honored to have been selected out of hundreds of vitamin manufacturers to be one of the 7 top vitamin brands reviewed by REAL SIMPLE. This is especially significant as this selection was completely unsolicited and quite honestly, an unexpected surprise for us here at Nutritech."
REAL SIMPLE, a magazine known for recommending simple solutions to real problems likes the powder approach to multiple vitamins and supplements: "A heaping tablespoon contains the vitamins and minerals that you would get from several pills." They continue their review by emphasizing the purity, and bio availability, of a multiple powder supplement: "Tablets contain fillers and binding agents that the body has to break down before the nutrients can be absorbed … powders don't require these."
>> Read Press Release Here at PRWEB
See REAL SIMPLE mention below. ALL ONE was the ONLY powder reviewed and there were NO liquids included!